EQUAL PAY DAY TUESDAY, APRIL 14, 2015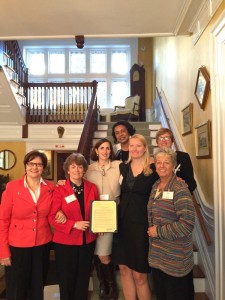 The Coalition on Pay Equity (COPE) hosted a Press Conference at the Mansion to coincide with National Equal Pay Day. Approximately 30 people attended, including distinguished guests, Mayor Lovely Warren, University of Rochester President Joel Seligman, Sharon Sayers, Esq., and Congresswoman Louise Slaughter, via televised message. Also attending were several community leaders, as well as AAUW members.
A joint proclamation was presented to the COPE team from Maggie Brooks and Mayor Warren.
Coalition on Pay Equity Members: Judge Evelyn Frazee, Cynthia Herriott – GRAB Director of Public Policy, Kate Cerulli – University of Rochester Susan B. Anthony Center, Sharon Sayers Esq., Marilyn Tedeschi – AAUW President, Laura Myers Esq., Deborah Hughes – President/CEO of Susan B. Anthony Museum.
---
IS THERE A PAY GAP BETWEEN WOMEN AND MEN NATIONALLY?
Complete a survey on pay equity through the Coalition on Pay Equity (COPE), GRAB AAUW Partner organization. The survey is open to males and females and will be an ongoing survey. We will be publishing initial results from the survey in April 2016 at our annual COPE event in Rochester, NY.
---